Message from the Representative director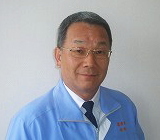 Shokuken Corporation  is a food manufacture which inaugurated an enterprise from food-grade reforming functional materials (following, functional ). We have been engaged in food processing and  contributed to society through it for about a half century with our full ability.
We are confident that the east-west 2 base production system completed by the operation of Chiba factory in November 2010 will provide our customers with further convenience in stable food supply and various eating habits.
The mission of functional material,which is said "DNA" of our company, is increasing much more from a view point the technology to enhance its merit and  effective use of food resources.
We will advance research and development hoping  to spread seeds for all processed foods and to contribute for more food processors.
We will continue to be a food maker which pursue "safety and relief" and give the highest priority to "quality assurance".
And as a company which sends the name of "Chiba Prefecture"widely, we strengthen cooperation with  producers and related business circles.
Please give us much more guidance in the future.
representative director and president   Hideyuki Takahashi
Management concept
(1) We aim at making safe products.
We provide reliable products which contribute to customer's health and daily life .
Provide a visitor with "delicacy" and "satisfaction" and challenge creation of new eating habits.
Grow up to be a company which raises a visitor's reliability through manufacturing products with high originality.
(2) Strive for training rich talented people.
We will train an employee trying for a challenging goal and respect for teamworks. We put the management of autonomy and independence into practice.
Raise an employee's pride and degree of satisfaction, training an employee's imaginative power.
Create the transparent system for working and aim at the management those values the working people.
(3) Aim at prosperity of a company, and an employee's happiness.
Observe business ethics and pursue management  friendly to human beeings and global environment .
Under a workplace creation by all the members participation, pursue proper profit and return the profit to employee, stockholders, suppliers and customers.
Raise an employee's happiness and a definite aim in life, and aim at stable improvement in a healthy life.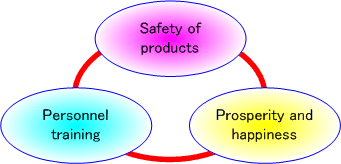 "Corporate vision" — (1) safety of products (2) personnel training (3) employees' improvement in a life, and contribution to the society.
We provide the functional materials and the processed foods in the higher quality state using our own technology and know-hows .
For that purpose, I am concentrating on training of the talented people who are excellent in originality and do not fear a risk.
In order to get an employee to do one's best, the follow-up system of personal treatment and improvement in a welfare program are indispensable.
By producing this sound cycle of three actions, we are working positively to provide valuable products and to contribute to society.