Shokuken was established in June, 1963 (Showa 38) as a "Food Chemistry Research Institute Corporation " and it changed the company name to Shokuken Corporation in February, 1966 (Showa 41).
"The food which is safe,inexpensive,delicious and trusted" which is a philosophy at the time of establishment has been kept in mind as a motto since then.
In response to the rapid increase of demand for  protein diet, we tackled researches and developments of vegetable albumin promptly in the same trade, and commercialized the new denaturation technology of wheat protein for the first time at home.
Since then, we are dedicated to the development of new functional materials including natural food preservatives, and are continuing to provide the trusted food which is high quality,unique,also safe and inexpensive to meet the needs of customers.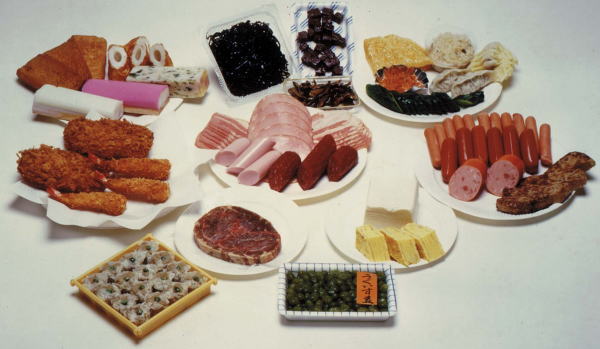 The example of food in which the functional materials are utilized.
June, 1963
Established Food Chemistry Research Institute Corporation and started research for food chemistry.
April, 1965
Started manufacturing and selling of frozen denaturation gluten.
February, 1966
A company name is changed to Shokuken Corporation.
 August, 1966
 The head office is relocated to Shinagawa-ku, Higashiosaki,Tokyo.
 May, 1967
 A highly efficient production plant is newly established in  Shinminato,Chiba city.
 October, 1969
 The experimental-and-research-expense subsidy for rationalization of agriculture, forestry and fisheries enterprises was granted to research and development of vegetable protein food by the former Ministry of Agriculture and Forestry .
 March, 1970
 The head office is relocated to Chiba City.
 January, 1976
 A powder factory is established newly.
 December, 1977
 A frozen-foods factory is extended to a powder factory.
 May, 1979
 Research and development of frozen-foods products are started.
 November, 1979
 The subsidiary company "Shokurei" is established as a frozen meat production plant.
Tied up with NICHIREI CORP.
 March, 1980
 The head office and factory were extended overall.
 October, 1983
 The 1st term construction of the Toyohashi factory is completed and a highly efficient spray drier is installed.
Advanced into high-class protein and the seasoning field.
 June, 1987
 The 2nd term extension construction of the Toyohashi factory is completed.
 October, 1996
 Established Chiba factory of Shokurei corporation newly.
 April, 1999
 Extended the head office factory and established a frozen-foods production line newly.
 April, 2002
 Based on a split-up type absorption segmentation contract with Shokurei corporation, the manufacturing department of the frozen meat processed goods of Shokurei corporation was inherited.
Increased the capital to 45 million yen.
 March, 2003
 Issued the first debenture.
 October, 2003
 Shokurei Corporation is merged.
 September, 2004
 Capital participation from the Tokyo Small Business Investment Co.
 July, 2005
 Started the export of food functional materias to China,and also started the granted manufacturing of frozen meat processed goods in China.
 November, 2010
 Established the head office and the Chiba factory newly in Midori-ku,Chiba City.
The head office, the head office factory, and the second factory in Mihama-ku Chiba City were unified and relocated.
 December, 2010
 Issued the fifth debenture.